Headlines:
---
---
August 3, 2018
Quartette to Tour Atlantic Canada in 2019
Sylvia Tyson, Gwen Swick, Caitlin Hanford and Nova Scotia's Cindy Church make up the group, which is complemented by three seasoned backup musicians. The last couple of times the ladies have come through the Atlantic regions they were doing their Christmas show, but next fall they will be performing their regular concert, and are available in Newfoundland and the Maritimes from October 10th through 20th inclusive (2019).

Watch Quartette performing live on YouTube.

Listen to Quartette here on Spotify.
---
July 23, 2018
Black Umfolosi Back to Canada in August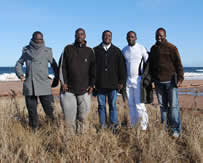 JMI's globe trotting Black Umfolosi completed a huge six week North American tour this past spring. They will be back in August for some summer dates on both sides of the border. Here is where you can catch them.
---
July 16, 2018
The Young'Uns Give Two Free Shows
in Toronto July 21 and 22
| | |
| --- | --- |
| | This summer England's The Young'Uns will be busy touring on the other side of the Atlantic, but they have made room in their schedule for one event, Toronto's Brave Festival, which celebrates artists who are fearless and defiant. Some are exiled from their homes and native lands. All of them disrupt authority for a living. The Young'Uns, who have championed many great causes and people, will be participating in the weekend of the festival called The Defiant ones. The great news for fans is, this is a free show. |
Get the details here for their Saturday, July 21st performance. You can also catch their workshop at 1:00 p.m. the following day, details here. This is also a free show. All shows for this festival are presented by and at Toronto's Harbourfront Centre.
---
July 9, 2018
James Keelaghan's Summer Festivals
---
July 9, 2018
Guy Davis on the Road, Summer of 2018
---
July 9, 2018
Calan to play Hugh's Room, Summerfolk
| | |
| --- | --- |
| | Welsh trad outfit Calan will be spending most of their summer on the other side of the pond, but they will be twice in Canada this coming August. On the 16th there will be a fantastic JMI double-header at Hugh's Room as they join Vishtèn for their first Toronto performance ever. From there they will head up to Owen sound for the weekend. One of the best young trad outfits around, don't miss them if you are in central Canada this summer: |
---
July 2, 2018
Vishten's Busy Summer
---
July 2, 2018
Martin Simpson Returns to Canada
Martin Simpson is one of the busiest musicians we have the pleasure to work with, so much so, in fact, that it has been very difficult to find time frames when he is available to come to Canada. One of the world's greatest acoustic guitarists, he is also a singer-songwriter and a one of England's most highly awarded folk artists.

This summer Martin will be playing some of the biggest folk festivals in Canada, but you can also catch him at a couple of smaller venues. He will be over for a couple of weeks in July, and then back for two major festivals in August. Here is where you can catch Martin Simpson in Canada this summer:
---
July 2, 2018
Ireland's Goitse Heading Back to Canada this Summer
---
May 20, 2018
JMI Signs The Gift
A Celebration of Five Decades of Ian Tyson's Songs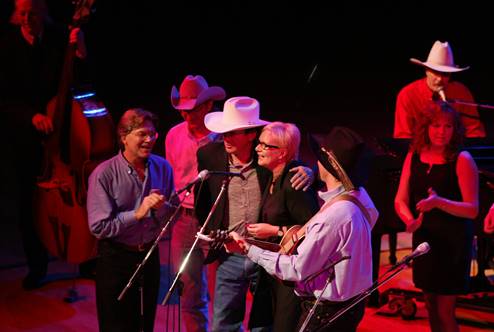 JMI is very pleased to announce the exclusive signing of The Gift, a musical celebration of the incredible songs of Ian Tyson, one of Canada's greatest legends of folk and country. Four Strong Winds, which has been covered by dozens of artists such as Johnny Cash, Neil Young, Harry Belafonte, Bob Dylan and Waylon Jennings, was the first song Ian ever wrote. More than five decades later, Tyson's canon is an enviable one, and Four Strong Winds was chosen by CBC Radio listeners as the greatest Canadian song ever written.
Tyson is retired now, but there is still great demand for his music. The Gift features a core band made up of his long-time backup players as lead by Tyson collaborator, Stewart MacDougall. The band is complemented by special guests on each tour. So far those guests have included Ramblin' Jack Elliot, Corb Lund, Tom Russell, Amos Garrett, Russell DeCarle, Cindy Church and others, and each tour will feature a distinct roster of guest vocalists. The Gift has already performed at many theatres and outdoor events, such as The National Arts Centre (Ottawa), The Jack Singer Concert Hall (Calgary), Big Valley Jamboree (Camrose, AB), Dauphin Country Fest and the Edmonton Folk Festival.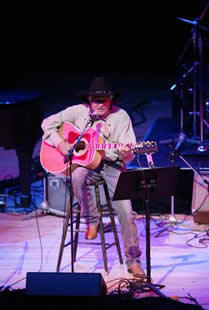 Ramblin Jack Elliot with The Gift in Calgary
"The Gift did an excellent show at the Edmonton Folk Festival.
It was so good that Canada Live has run the recording four times nationally".
- Terry Wickham, Edmonton Folk Festival A.D.
You can watch a promotional video on The Gift here on YouTube.
JMI will be touring The Gift to festivals, fairs and concert halls in 2019 and 2020. Stay tuned for tour announcements, including special guests, which are being assembled at this time.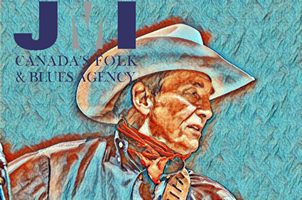 ---
May 9, 2018
Tony McManus Headed West in May
Tony and Julia Perform Penny on YouTube.

This is not a show to be missed. Only three chances to catch them this time. Here is when and where you can do just that.

| | | | |
| --- | --- | --- | --- |
| May 14 | Vancouver | BC | Rogue Folk Club |
| May 15 | Penticton | BC | Dream Café |
| May 17 | Duncan | BC | Duncan Showroom |
---
May 1, 2018
Peterborough Show Rescheduled for
Keelaghan-McManus Double Bill
---
April 12, 2018
James Keelaghan and Jez Lowe
to Tour North America in the Fall
| | |
| --- | --- |
| Two of the folk world's very finest roots singer-songwriters will be touring North America together in the fall. James Keelaghan needs little by way of introduction to Canadians, as he has been touring from one end of the country to the other for several decades now. Jez Lowe is not unlike James, in that he is a singer-songwriter who has been bringing his songs to audiences the world over for many years. Hailing from England, Jez is as much of a folk institution at home as James is here, and both artists enjoy followings from Australia to Europe and North America. | |
The two are fast friends who have done many tours together. This fall they will be doing dates across America and Canada from late September into October.
---
April 9, 2018
And Best Album Goes to... The Young'Uns!
JMI congratulates The Young'Uns, who were presented with the Best Album award last night in Belfast, Ireland at the BBC Radio 2 Folk Awards by the legendary Maddy Prior. That lads have also won the coveted Best Group award on two previous occasions. Fans can look forward to seeing the guys back in Canada this fall, when they will tour the Maritimes, Quebec and Ontario.
---
March 23, 2018
JMI Signs Folk Legend, Peggy Seeger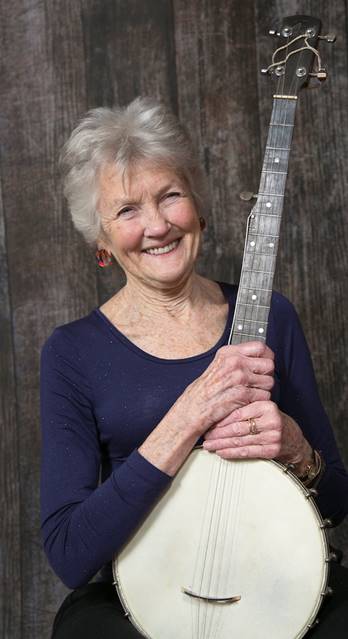 | | |
| --- | --- |
| Peggy with brother, Pete | JMI has had the privilege to work with some of the greatest musical legends in the world, people like Jerry Jeff Walker (USA), Johnny Clegg (South Africa), Bruce Cockburn (Canada), Pete Seeger (USA) and former Rolling Stones lead guitarist, Mick Taylor (UK). Today we announce the signing of one of the great legends of American and English Folk, the one and only Peggy Seeger. |
Peggy Seeger is a unique artist who has carved a special place in the folk revivals of both the UK and the USA. Although in her early 80s, her light burns as brightly as ever, with legendary live performances that might include an unaccompanied traditional ballad, followed by an anecdote from her remarkable life, before launching into a topical song about drugs, war, politicians, unions, women, love or ecology. A multi-instrumentalist (piano, guitar, 5-string banjo, autoharp, English concertina and Appalachian dulcimer), she is lauded for her feminist and political songs and has made 23 solo recordings and participated in over a hundred recordings with other artists. As Ewan MacColl's partner and muse, she was the inspiration for MacColl's classic 'The First Time Ever I Saw Your Face' (the title of her much praised recent memoir) yet this is a woman who has consistently followed her own path with passion and vigour.
For a full bio of Peggy Seeger, please click here.
Peggy will be touring Atlantic and Central Canada from October 24th through November 10th of 2019.
Watch Peggy Perform Gonna Be an Engineer on YouTube.
---
January 20, 2018
Ray Bonneville to Perform
Western and Ontario Dates in March
---
January 27, 2018
Black Umfolosi to Embark on North American Tour
in February
| | |
| --- | --- |
| | Black Umfolosi are no strangers to Canadian audiences, having performed hundreds of shows in this country, from coast to coast. In February they will embark on a tour that will take them right across Canada, but also deep into the USA. Fans can expect the same blend of dance and a cappella singing that has made Black Umfolosi something of a legend, and given them a reputation as one of the finest vocal groups from the African continent. Here is where you can catch them in Canada and America starting in February and going well into April. |
---
January 11, 2018
Australia's Shane Howard to Perform Western and Northern Dates
| | |
| --- | --- |
| | It's currently high summer in Australia. Not so where Shane Howard is headed. The Australian legend of folkrock and champion of many noble causes is headed not only onto the frozen Canadian prairies next month, but also deep into the artic circle for his first Canadian tour in several years. The Arctic dates will be performed with special guest, Yirrmal, who is one of the continent's brightest rising stars of aboriginal music. Shane's Saskatoon and Edmonton dates will be performed solo. |
---
December 19, 2017
Martin Simpson New Studio Album
Released on Topic Records
'Trails & Tribulations' is a collection of songs about nature, about travels and about real life stories. There are traditional songs, poems and contemporary songs by great writers, and songs that I had to write because nobody else knew what I wanted to say. I travel, I learn songs, I write and try to get better at the skills required for me to do my job. I look at the world as I pass by, on the road, out of the train window, or as I stop and pay close attention to the square foot under my nose. There is so much to see and to hear and to inspire and to try and understand. I had a huge amount of fun playing and recording these songs, using different instruments, different noises, old friends and new ones, all of whom brought so much to the mix. Martin Simpson, April 2017.

Produced and engineered by Andy Bell, 'Trails & Tribulations' features some of Martin's most inventive playing yet, showcasing his virtuosity on a variety of instruments including acoustic guitars, resonator guitars, Weissenbown lap steel guitar, electric guitars, 5 string banjo, ukulele – and voice.

Guest musicians on the new album are: Ben Nicholls (string bass and electric bass guitars), Toby Kearney (drums and percussion), Nancy Kerr (fiddle and viola), Andy Cutting (diatonic accordion and melodeon), John Smith (electric guitar and backing vocals), Helen Bell (strings), Amy Newhouse-Smith (backing vocals) and his daughter Molly Simpson on vocals.

Hand in hand with his long and storied solo career, Martin has been central to seminal collaborations like The Full English, The Elizabethan Sessions and Simpson Cutting Kerr. He has worked with a dazzling array of artists from across the musical spectrum: Jackson Browne, Martin Taylor, June Tabor, Richard Hawley, Bonnie Raitt, Danny Thompson, David Hidalgo, Danú, Richard Thompson and Dom Flemons, to mention a few. He is consistently named as one of the very finest acoustic, fingerstyle and slide guitar players in the world and is the most nominated musician in the history of the BBC Folk Awards, with a remarkable 31 nods. A true master of his art.

For a full listing of Martin's 2017 concerts, please visit : martinsimpson.com/gigs.
---
November 30, 2017
A Grammy Nod for Guy Davis!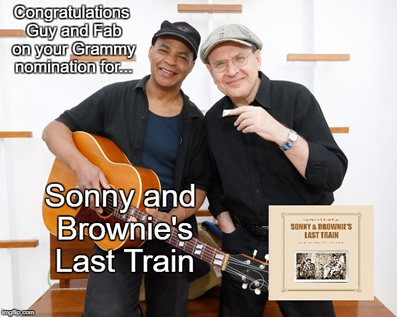 Guy Davis and Fabrizio Poggi have been nominated for a 2018 Grammy in the Best Traditional Blues Album Category for Sonny & Brownie's Last Train. They are up against some stiff competition, including Elvin Bishop, Eric Bibb and some band called The Rolling Stones. We congratulate Guy and Fab and wish them well on Grammy night.
You can listen to Sonny & Brownie's last train on Spotify, here.
---
November 29, 2017
Martin Simpson to Tour Canada in October 2019
Martin Simpson is one of England's greatest guitar players, and also a singer-songwriter of some renown. Over nearly four decades, he has constantly been at the forefront of the UK folk scene, both as a solo artist, and in his many collaborations with the likes of Jackson Browne, Richard Thompson, June Tabor, Martin Carthy and many, may more. He has been nominated an incredible 26 times for the BBC Radio 2 Folk Awards, more than any other performer, with 9 consecutive nods for musician of the year, a title which he has won twice.


Watch Martin Simpson perform She Slips Away on Youtube
Watch Martin Simpson Singing You Were Never Any Good
Listen to Martin on Spotify while you work
---
November 15, 2017
Quartette Christmas Coming to the Maritimes
---
November 11, 2017
Ten Strings And A Goat Skin Touring Central Canada
The guys will be doing a short run of Quebec and Ontario dates when they get back from overseas. Here is where you can catch them in November and December. They also have a couple of Quebec dates in early January before heading to California.
---
November 8, 2017
Vishtèn Touring Western Canada This Month
Here is where you can find them in November.
* The Creekside Theatre show in Lake Country features another JMI group opening the show, the UK's fabulous The Young'Uns.
---
October 31, 2017
The Young'Uns to Tour Canada in November
Their current CD, Strangers, recently received a four star review in the London Guardian, and that same fabled newspaper ran feature article on them on October 11th. Want to hear what all the fuss is about? Watch them here on YouTube or listen to their new single here on Spotify.
---
October 1, 2017
Tony McManus Headed for Western Canada
Here is where you can catch Tony in October:
---
September 23, 2017
England's Moulettes Touring Canada in October
JMI's Moulettes have really been turning heads on their trips to Canada, which number three now over the past two years. The guys will be back in October, touring from Quebec to British Columbia. If you haven't seen this incredible band yet, you really want to catch them on this tour - some of the best original music we have had the pleasure to tour in years. Here is where you can catch them next month:
---
JMI Signs Wales' Calan!
JMI has worked with artists from every continent except Antarctica. Pickin's are pretty slim down there, but we have our ear to the ground. Meanwhile, we are very excited to announce our first signing from Wales. Calan bring together the remarkable talents of 5 young musicians giving a fresh and vibrant sound to traditional Welsh music. With a contemporary and lively approach they breathe new life into the old traditions through their sparkling melodies, foot tapping tunes and spirited and energetic performances of Welsh step dancing. They blast their way through some of the old favourite reels, jigs and hornpipes with fast paced and uplifting arrangements before melting into some of the most beautiful and haunting songs. You can read more about this fantastic group here.

To see why we are so excited, check them out on YouTube here or listen to their latest recording here on Spotify.

Watch for Calan to tour Canada next summer – details coming very soon.
---
September 18, 2017
Guy Davis to Tour Canada in October/November
JMI's blues troubadour, Guy Davis, will return to Canada in November for a solo tour that will take him from Quebec to Alberta. Guy will be returning to some old haunts and also playing a few new venues. Here is where you can catch him.
---
September 13, 2017
Claire Lynch Returning to Maritimes in October
Here's where you can catch her next month:
---
July 26, 2017
Two JMI Artists Included in the Top 50 Guitarists of All Time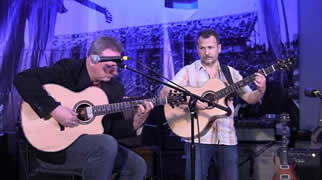 Tony McManus and Martin Simpson
Over the years JMI has also represented other guitarists such as Bruce Cockburn, Juan Martin and JP Cormier, Luther Johnson of Muddy Waters fame and Alison Brown, who is the top-ranked female banjo player in the world. Fiddlers? We've know a few, from Frankie Gavin to Richard Wood and April Verch. Truth is, we have worked with far too many great players over the past two decades to mention them all, but we do search far and wide to find the very finest musicians in the world. Congrats to Tony and Martin – they both deserve to be on that list.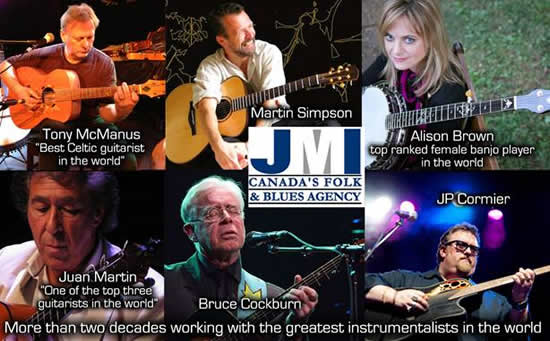 ---
JMI Signs England's The Transports
Featuring Five of England's Top Folk Artists
★★★★★ "Stunning….truly a transport of delight"
Alfred Hickling, The Guardian, London, UK
JMI is very excited to announce our most recent signing, England's The Transports. This 100 minute show gathers the cream of the English folk scene for the very moving story of poor Brits being exiled to Canada and Australia in the 18th Century. The multi-artist cast features The Young'Uns, Nancy Kerr, Faustus, Greg Russel and Rachael McShane of Bellowhead. Storyteller Matthew Crampton narrates the tale that links Peter Bellamy's famous set of folk ballads. With parallels to today's refugee crisis, and local flavour for each venue, The Transports blends insight with entertainment, plus a tour-de-force of harmony singing.
★★★★ "an ensemble success…
ten voices uniting in magnificently lusty, rousing chorus"
Rob Adams, The Herald
Watch this promotional video on YouTube
The entire Transports show is being performed to 35,000 people at the Shrewsbury Festival in England on Saturday, 26th August 2017 at 2:45pm GMT, and you can watch!
The performance will be live-streamed here. Follow the links on the website to the live stream from Main Stage (Stage 1). The links will appear closer to the festival date. It will start at the above time.
Press Reviews
★★★★★ "Stunning….truly a transport of delight"
Alfred Hickling, The Guardian
★★★★ "an ensemble success….ten voices uniting in magnificently lusty, rousing chorus"
Rob Adams, The Herald
"Truly stunning ensemble singing and individual instrumental virtuosity"
Chris Kenny, Songlines
"Superb…the best piece of work I have seen in a very long time"
John Tams, Actor and Recording Artist
"The Transports is truly magnificent"
Ian Croft, RnR Magazine
"Outstanding"
Nigel Schofield, Living Tradition
"Thought provoking, beautifully performed, hopeful, educational, inspirational - a triumph"
Natalya Catton Wilson, EDS Magazine
"One of the best stage performances in a very long time"
Alex Gallagher, Folk Radio UK
"Moving and compelling"
Keith Savage, Arts Beat
Guardian preview piece and review:
Later in 2017, BBC Radio 3 will be broadcasting the full show from the BBC Radio Theatre in
London. Tickets were snapped up in two days.
---
July 17, 2017
Sylvia Tyson and Cowboy Junkies to Headline
Kingsville Music Festival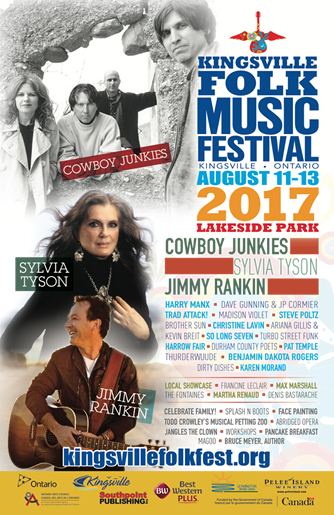 JMI's Sylvia Tyson will headline this year's Kingsville Music Festival(August 13-17) with The Cowboy Junkies. Also on the bill are Harry Manx, JP Cormier, Dave Gunning, Steve Poltz and many others. Sylvia's mainstage performance will take place on Friday night. On Thursday, August 10th, Sylvia will also appear with her band at the Meaford Hall Arts & Cultural Centre. Fans can expect songs spanning the legendary singer-songwriter's fifty-plus year career.
---
June 29, 2017
Ten Strings And A Goat Skin to Headline
Mammoth Canada Day Show in Thunder Bay
Ten Strings And A Goat Skin has been overwhelmed with the numerous accolades they have received for its new album, Auprès du Poêle, over the last several months including, award nominations for a Juno, two ECMA's, four Canadian Folk Music Award's, and six PEI Music Award's. The album was named Album of the Year by the prestigious Canadian Folk Music magazine Penguin Eggs. In addition the group has been singled out for an Album of The Year nomination from Folk Alliance International.
"We hope people will be ready to dance with us on Canada Day. 150 years is a big deal! And we're so stoked to somehow be a part of this memorable day," said Jessie Periard of Ten Strings And A Goat Skin. "Canada Day is always a fun time for partying and we're excited to celebrate with the people of Thunder Bay. This will be our very first time there, so we're going to do our best to leave a lasting impression!".
The PEI based band will barely have time to catch their breath this summer, with a dizzying touring schedule. Here's where you can catch them in the coming months.
---
June 27, 2017
JMI Signs Austin's The Band of Heathens
JMI is very excited about our latest signing. Austin's The Band of Heathens have been chasing pavement across America and Europe for the past decade, but they have not yet taken their rootsy folk-rock sound to Canada. The term "Americana" was practically invented to describe The Band of Heathens' approach to writing and performing. They have a sound that will remind some of The Band and a live groove that has the same kind of feel as bands like the Grateful Dead and The Stones. Rich and catchy guitar licks reminiscent of Chuck Berry and Keith Richards mixed with raw alley-cat harmonies and instantly singable songs – that is The Band of Heathens.

This band is already well established on the US concert and festival circuit. We plan to make that happen in Canada.

Listen here to the full sound of The Band of Heathens as they perform at Austin City Limits, and here, as they perform a more stripped down song, the wrenching The Hanging Tree.

The Band of Heathens will make their first foray into Canada on the festival circuit in the summer of 2018. This is a band that can play a mainstage late a night. Listen to their brand new CD, Duende, here on Spotify.
See more information on JMI tours, signings and CD releases on this news page.
---
June 26, 2017
Claire Lynch US and Canadian Summer Dates
---
June 26, 2017
Guy Davis to Tour Western Canada with Fabrizio Poggi in 2018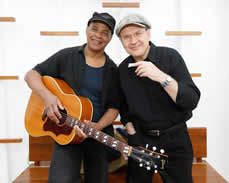 Few blues artists have performed in Canada more than Guy Davis. We estimate that over the past twenty years we have booked over 700 shows for Guy in all ten provinces and two territories, almost exclusively in theatres and at festivals. He returns for a show that will be completely new to western Canada in the fall of 2018, as he will be packing along one of the greatest blues harmonica players in the world, Fabrizio Poggi of Italy. The tour will take place across western Canada October 11th through 21st, 2018.
| | |
| --- | --- |
| | Guy's most recent recording is a tribute to Sonny Terry & Brownie McGhee called Sonny & Brownie's Last Train and prominently features Poggi on each track. The record has been getting fantastic reviews and is charting well all over the world. You can listen to it in its entirety here, on Spotify. This is Guy Davis proving once again that when it comes to acoustic blues, he is the real deal; Sonny & Brownie were probably the most lauded and influential acoustic blues duo of all time, and Davis is keeping their names and tradition alive long after each them boarded that last train. |
This is a short tour so we are expecting the dates to go quickly. Guy Davis tours virtually non-stop around the world, and it is getting more difficult to find time frames when we can get him up to Canada. This will be a brand new show to western fans of Guy Davis.
---
June 20, 2017
Moulettes Summer Dates
---
June 20, 2017
Young'Uns Canadian and Overseas Summer Dates
---
June 20, 2017
England's "Best Folk Group" to Tour Eastern Canada
The Young'Uns have played just about every major folk festival in the UK, Europe and Australia, and they hit a few Canadian ones last summer as well, selling hundreds of CDs at each event. They are funny, they are political, they're great writers, and boy, can these guys sing. They are also Winners of the BBC2 Folk Awards, Best Group two years in a row. The guys will hit several Maritime markets this summer, including Stanfest, Margaretsville, Pictou and Victoria, PEI before moving on to Mariposa and Goderich. Watch for them to tour Atlantic Canada October of 2018, commencing on the 5th and then moving across Quebec and Ontario.
Watch the Young'Uns performing on YouTube.
---
June 19, 2017
Black Umfolosi Touring Canada in July
---
The Henry Girls are three sisters from Ireland who spend their time touring Europe and the UK, and occasionally America. Think The Good Lovelies or The Waylon Jennies and you'll have an idea as to what this group is like. Great songwriting, fantastic harmonies and wonderful live performances are what fans have come to expect from these ladies. The Henry Girls will make their Canadian debut in August with a brief trip across the pond. Here's where you can catch them.
---
June 19, 2017
From PEI to New Zealand – Vishten's Busy Summer & Fall
- click to view full size poster -
Vishtèn is one of Canada's busiest trad acts, taking their unique blend of Acadian song, dance and instrumental music all over North America, Europe and Australia. While the majority of their dates are international, they do manage to find some time to tour at home as well. This summer and fall sees the group as close as home (PEI) and as far away as New Zealand. Here is where you can catch them in the coming months.
---
June 12, 2017
Guy Davis' Very Busy Summer
---
June 12, 2017
James Keelaghan's Summer Schedule
---
June 10, 2017
Jonah Blacksmith to Perform in Western Canada in July
| | |
| --- | --- |
| | Having watched it closely for more than a decade, we can state that the music scene in Denmark has grown incredibly in recent years. Not only is the industry becoming highly organized, but the quality of the music continues to grow year after year, and for such a small country, they are turning out a disproportionate number of very fine artists. Jonah Blacksmith is such a group. For all the great Danish music we saw at last year's Tønder Festival, Jonah Blacksmith was the one that stopped us in our tracks. |
This summer they will make their first foray in the great Canadian west, playing two major festivals and a theatre. You do not want to miss this band. Here is where you can catch them in July.
---
May 30, 2017
Ten Strings And A Goat Skin's Busy Summer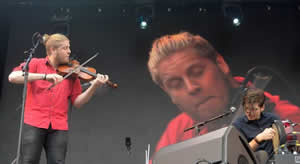 The only problem we have had so far with PEI's TSGS is finding dates for them, as demand has far outstripped avails. The guys are selling out shows all over Europe and America, and have recently added Australia to their touring calendar. This summer will see them playing major festivals across North America as the decision was made to give Europe a rest to concentrate on events in Canada and America. Highlights will include the mammoth Winnipeg Folk Festival and the ever cool Edmonton Folk Fest and they will perform from St. John's NL to Victoria, BC.

Here is where you can catch them from June through the end of September – stay tuned for additional tours to be posted as well.
---
May 29, 2017
James Keelaghan to Tour the Maritimes with Dave Gunning
in January of 2018

It has been a while since Borealis Recording Artist James Keelaghan has toured the Maritime provinces. As part of the Canada 150 celebrations, he will do so in January with Nova Scotia Singer-Songwriter, Dave Gunning. James grew up in Alberta, Dave in small town Nova Scotia, and each of them is a storyteller steeped in the culture, history and tales of Canadians of all stripes. Friends of many years, James and Dave are very much looking forward to working with each other next winter.
Here is when and where they will be playing:
---
May 17, 2017
Ray Bonneville's Song Family
I am a little over three quarters of the way into the recording of my ninth studio album. Still to go are some vocal and instrument overdubs, but more importantly the mixing, mastering, photography/artwork/design, manufacture, radio tracking and publicity campaigns. Given that the music industry is in serious upheaval these days, artists like me are feeling the need to rely on crowd funding campaigns to keep on the path we've been on for decades. Mine is called "Ray Bonneville's Song Family", and I am asking my friends and fans to help me to make this project successful. Here is some of my history and how I've come to think about this effort.
I grew up the second in a French speaking Quebecois family of nine kids with a very strict father and we moved around a lot. From a young age I was trying to get off on my own and ditch the heavy rules that were imposed on me. I was always off into the woods with a fishing pole or a sling-shot, and then later as a teenager in the Boston area with a guitar and a few chords. I really wanted to roam and find a place for myself in the music world.
---
March 15, 2017
James Keelaghan Heading West in April
---
February 22, 2017
Goitse Western Dates in March
---
February 15, 2017
Quartette has Two Northern Ontario Shows in February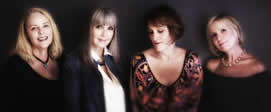 Coming on the heels of their cross Canada Christmas tour, JMI's Quartette has a pair of shows in northern Ontario later this month. Sylvia Tyson, Gwen Swick, Cindy Church and Caitlin Hanford will be making their way to Midland and Elliot Lake. Here is where you can catch them.
---
February 13, 2017
Ten Strings And A Goat Skin Part of Official
State Visit to the Kingdom of Sweden
The trio is humbled to have been chosen to represent Canada and excited for the opportunity to visit. "Sweden is one of the most progressive countries in the world for its social values and innovation and we are very pleased to play a small part in this State visit", says fiddler, Rowen Gallant. Ten Strings members, who are currently working on their royal etiquette, will also participate in outreach activities while in Stockholm.
---
February 11, 2017
Two Major Award Nominations for
Ten Strings And A Goat Skin
The accolades and nominations just keep coming in for JMI's Ten Strings And A Goat Skin. First came the Album of the Year in Penguin Eggs, in which they beat out the likes of Leonard Cohen and David Francey. There have also been a string of nominations for The Canadian Folk Music Awards, Music PEI (six nominations) and the upcoming East Coast Music Awards.
Recently we learned that the guys were nominated for Album of the Year at the Folk Alliance's International Folk Awards. What made this nomination particularly special, is that the award is international, meaning that out of all the folk albums produced around the globe last year, Auprès du poêle was one of five in the world to receive this nod.
This week, TSGS received still another major award nomination when it was revealed that they are in the running for the Juno Awards this year for Traditional Roots Album.
The group is so busy they barely have time to think about all of these nominations, with plans to tour North America, Europe and Australia in the coming year. JMI congratulates them and wishes them well in all their endeavours.
---
January 25, 2017
Three New Central and Western Canada Tours from JMI!
---
January 23, 2017
Quartette Christmas to Tour Atlantic Canada in 2017
Offers are already coming in for this tour, which was announced earlier this week.
---
December 20, 2016
Ray Bonneville to Tour Central and Western Canada in 2018